Fish Market Gallery


Branding and Exhibition Design
Branded materials for a student run gallery in Downtown Raleigh
---


Fish Market Gallery

Fish Market is a student-run gallery in Downtown Raleigh, where student art is showcased every first Friday of the month. We seek to provide a space for students to express themselves in a space completely open to the general public.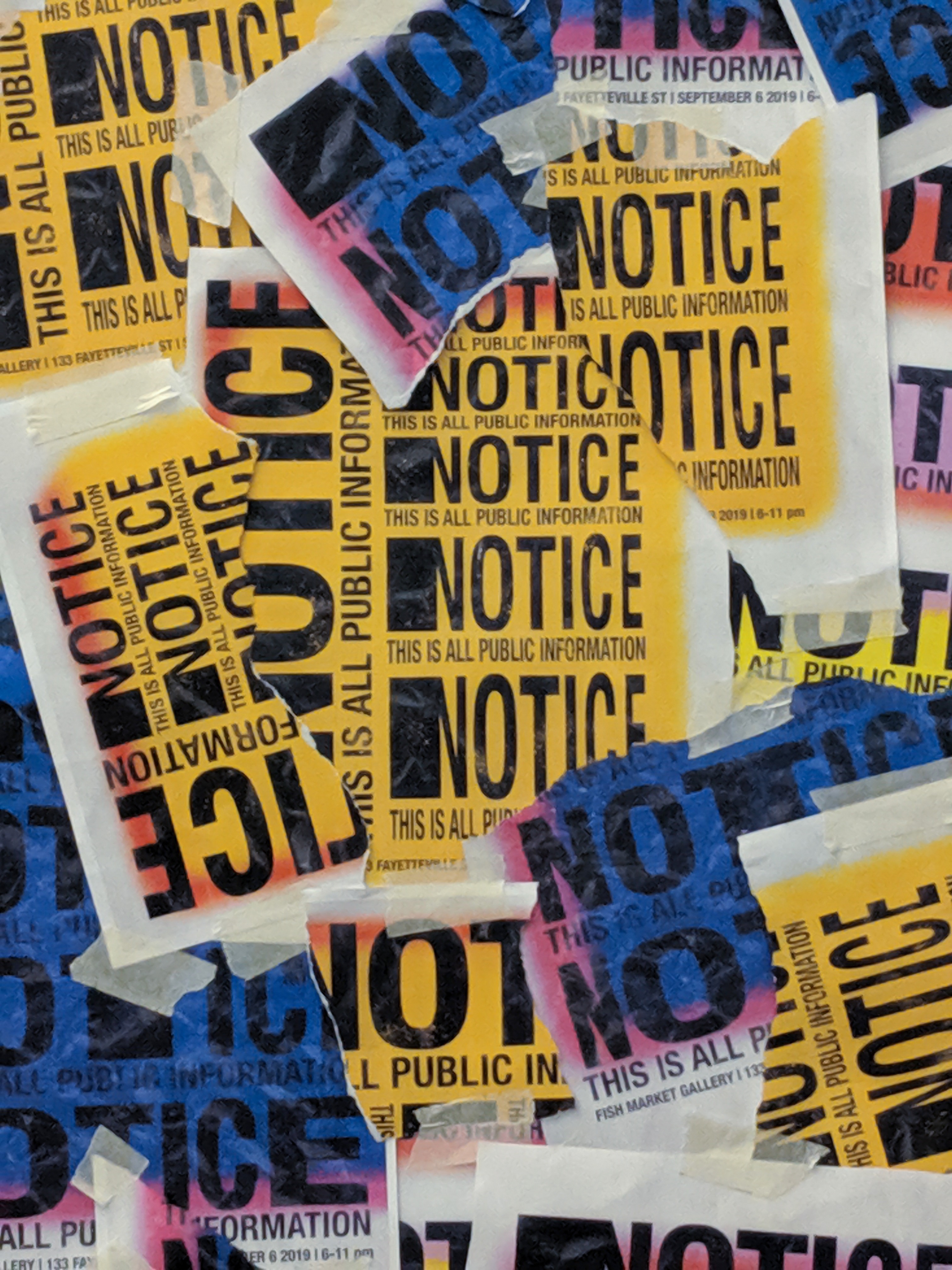 September 2019 Show: Notice

For our first show of the school year, we sought to create an exhibit that would provoke thought about the accessibility of information in today's world. Surveillance cameras were set in multiple locations across the exhibition space and projectors displayed what they saw. In the middle of the gallery, a singular desk with an old computer was covered with dozens of voter registration records. In a side room, a projection of a man spending time in his room and listening to music was presented, as if the projection was a live feed from a webcam.
I was in charge of creating the identity of the show and realizing it around the space and on social media. The posters were designed to reflect the urgency of our message and to reference notice signs around urban areas in the US. Posters were pasted around the College of Design leading up to the show, and social media posts promoted the experience. During the show, branded wayfinding helped visitors to navigate to the exhibit.



---
February 2020 Show: Original Copy

For our February show, we chose to look at design's relation to print and digital and what the future of each could look like. Our art submissions were projected on the wall rather than be tangibly there. We explored some digital concepts in print form, for example printing out websites and hanging them in frames. Maps of the exhibit were risographed and handed out.
Since the theme of this show leaned into both print and digital ideas, I decided to blend the two. I took themes and colors from early website design and vaporwave and split the image into color screens and processed it like traditional CMYK dot screens. I translated this brand into social media posts, some temporary signage, and a map of the show.